Polyaspartic & Epoxy Garage Floor Coatings Edmonton
Custom Concrete Floor Coatings, Concrete Repairs & Resurfacing Services For Commercial, Industrial, Residential, & Public Spaces.
Residential Garage Floors. Commercial & Industrial Concrete Floors.
Polyaspartic Coatings? We've Got You Covered.
Our Experienced Team Is Here To Help.
Whitcrete is proud to serve Edmonton and surrounding areas with concrete resurfacing and polyaspartic or epoxy coating services. Whether you're looking for a residential garage floor coating, have a new floor or a damaged concrete floor to be repaired prior to coating, or have an industrial shop, commercial or retail space, Whitcrete has you covered with the right concrete floor coating for your space.  We will walk you through the differences between polyaspartic and epoxy floor coatings, plus standard and custom colour options. Reach out to us to get started on your project.
WHY CHOOSE US FOR YOUR CONCRETE OR GARAGE FLOOR COATINGS OR REPAIR?
Our Goal Is Your Satisfaction. Guaranteed.
Our Team Strives To Provide A Great Finished Product To Our Clients.  Check Out Our Edmonton Google Reviews..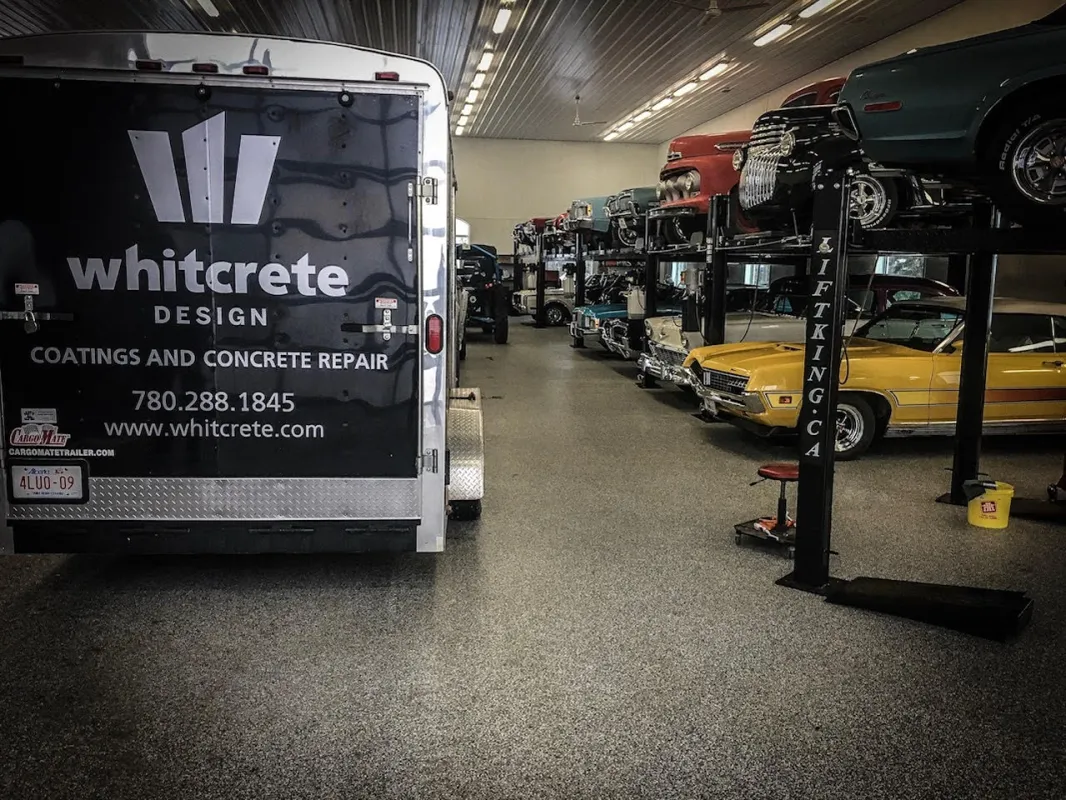 Get More From Your Shop Or Garage Floor!
On all projects, Whitcrete applies our extensive industrial, commercial and residential experience of over 20 years, combined with our passion for functional design and attention to detail. Under a knowledgeable and creative hand, concrete and its coatings can assume both structurally sound and aesthetic forms that enhance our daily lives. It can bring beauty and warmth into our living spaces and is at home in both traditional and modern settings. 
Check Out What We've Laid Down
Our belief in the beauty of concrete guides Whitcrete's mission: We strive to produce a showpiece with each completed project, no matter the scale of the project. Every piece is inspired by individual function, surroundings, a client's personal aesthetic  wishes, and by our passion for the craft. We take pride in Whitcrete Design's craftsmanship, commitment to detail and dedication to our clients.
You've Got Coating Choices
See The Gallery & Coating Colours.
Garage Floors, Shops, & More.
Whether your needs are exterior or interior, the first step is to meet and discuss how concrete and its coatings unique, long lasting qualities can meet those needs. We will consult with you to determine your requirements and any personal preferences regarding style, colour, finish and to discuss the many options that concrete and its coatings have to offer
"Whitcrete worked magic on my triple car garage floor. They fixed the cracked and chipped winter damage, and applied a thick polyaspartic coating. Meticulous & Professional. I highly recommend their work."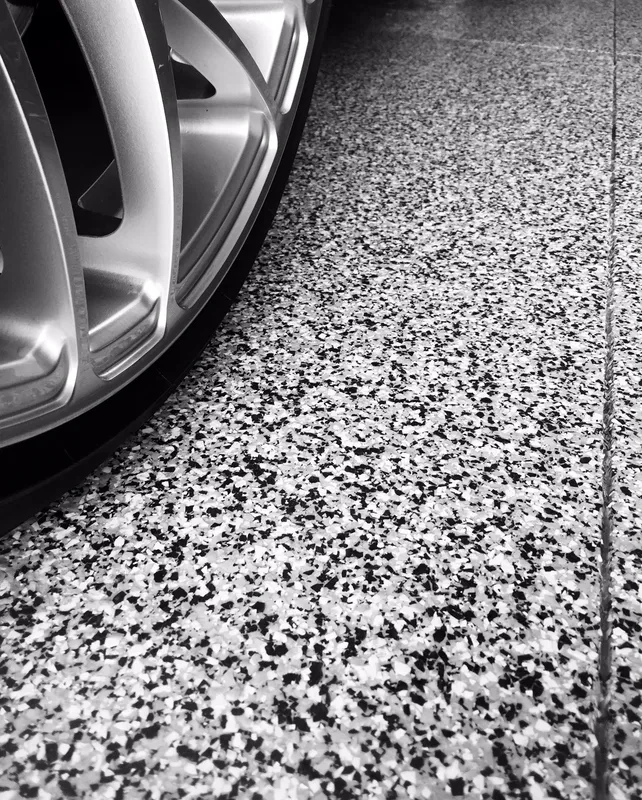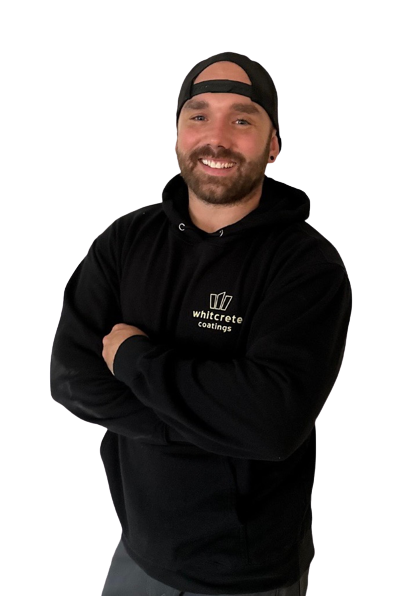 Our Commitment To Customers
Our goal is to treat every project like it was our own. Whether a concrete shop floor, garage floor, industrial bay floor, or commercial floor, our attention to detail means we do not cut corners, and finish it as if it were our own, so that you are a happy customer for years to come.
Our team of experienced concrete floor coatings experts will review your specific project needs, set out our plan and timeline to complete your project, and work with you to select the right floor colour and treatment, ensuring a final product you'll be proud to show off. 
Polyaspartic Floors | Frequently Asked Questions
How long does the process take?
Typically the process to install a Polyaspartic floor coating, on a standard double car garage, takes one day. This includes coating the vertical section on the grade beam, if desired. 
How long before I can walk and drive on the floor?
Light foot traffic can take place roughly 12 hours after we finish applying the final coat. Vehicle traffic in 24 hours. 
How do you prepare the concrete prior to coating?
We use diamond tooled grinders to grind the concrete prior to applying our Polyaspartic coating. This ensures a rough, clean and porous surface for the coating to adhere to. 
All our grinders are used in conjunction with HEPA approved vacuum systems for a dustless worksite.
My concrete has cracks, spalling and areas that do not drain properly…can this be fixed?
Yes they can! Cracks, chips, spalling, sloping issues or any imperfections in your concrete can be properly fixed prior to installing our coating.
Absolutely. We offer a 15 year warranty with our installation. 
How does this coating hold up against salt or other conditions from our Alberta winters?
-Our Polyaspartic is UV stable and holds up extremely well against salt and calcium chloride. 
Is the coating slippery and easy to clean?
The natural profile of our Polyaspartic chip broadcast system has great anti-slip properties while still being extremely easy to clean. If additional traction is desired, we can add a fine clear silica to the final clear coat which will not affect overall appearance of the finished product.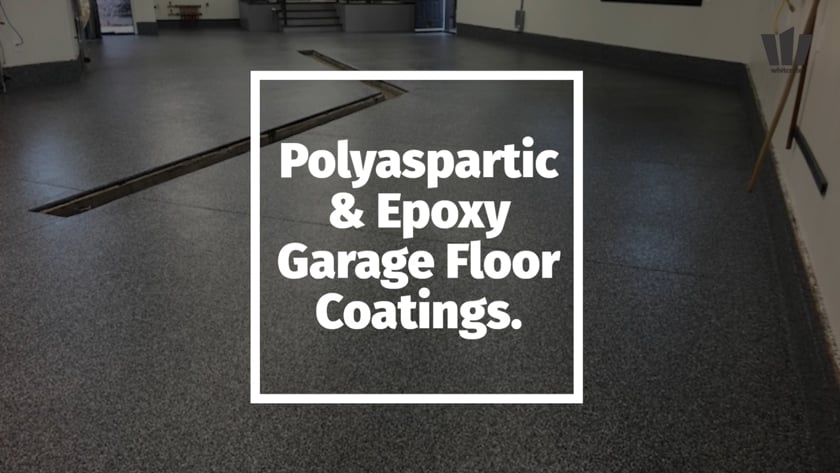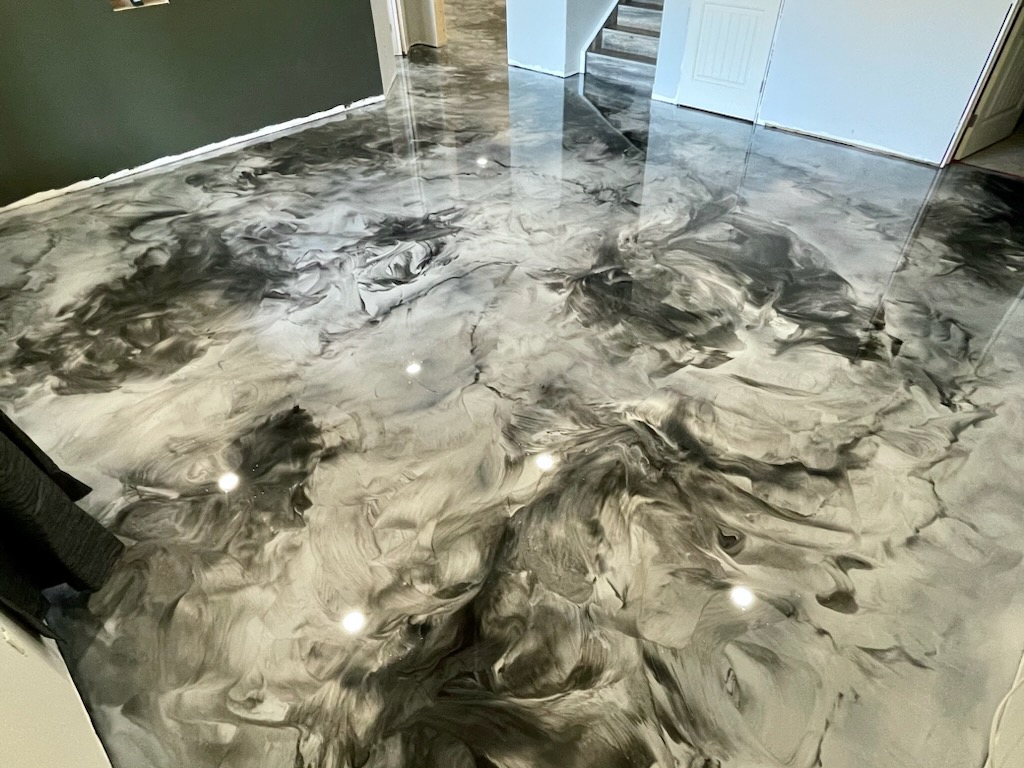 custom colours
Choose A Concrete Floor Coating Colour Blend That Meets Your Design Needs While Protecting Your Garage Or Shop Floor. When it comes to garage floor ...